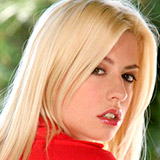 Jessie Volt is a powerhouse of naughty energy packed into a petite body and always eager to put on one heck of a hot show of skin. Sex-hungry and on the prowl are only a couple of ways to describe her ravenous nature.
The 5'1″ blonde was born March 29, 1990 and busted into the porn industry in 2010. Although Jessie is French and was born in Bordeaux, she is quickly gaining attention in the United States and around the world for her wanton acts on film.
Fans are thrilled to watch her skinny body get double stuffed – especially her cute butt getting anal action. She seems to delight in getting facials, wearing the cum like a sticky badge of pornstar honor.
Jessie likes it messy, but can also play the classy crush to perfection. She can be the chameleon of many fantasies and always the ultimate desire.