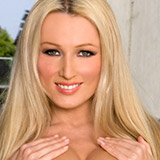 Marlie Moore is a blonde haired, brown eyed sexpot that will definitely make your fantasies brighter.
Most of her work is in lesbian porn, so if you fancy yourself some girl-on-girl than Marlie is definitely your babe! She doesn't just do all that sweet and sensual business either.
Marlie is one that loves her sex to be down and dirty and ensures that not only she gets the most out of everything, but her partner as well. After watching her films, you'll feel just as fulfilled and relieved too!