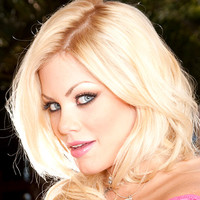 Riley Steele has appeared in a handful of mainstream television shows and movies, but she is best known for her performances as a pornstar. She has won many awards, including Porn's Best Body.
She was 21 when she first decided to give porn a try. Prior to that, she had worked at Starbucks and snack bars, but adventure was calling her name. She answered.
The 5'7″ blonde has mesmerizing blue eyes and a stunning 34-23-37 shape. Her scenes showcase that fine figure as well as her innate love of of the wild side of life.