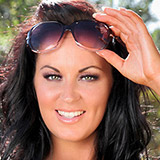 Sarah Nicola Randall is a true vixen with a va va voom kind of body. Her incredible curves give off the impression that she just stepped out of a steamy fantasy and is here to grant your every wish with decadence.
The green-eyed brunette is Welsh and was born on May 20, 1988. She started showing off her spectacular 5'3″ 32H figure in the buff in March 2011 and has been a popular centerfold-style model ever since.
Sarah describes herself as a party animal who loves hitting up all of the hottest clubs, but she is also very close to her family. To go with her fun-loving personality and staggering beauty, is also her intelligence. She is a college graduate who majored in Criminal Justice and took Psychology as her minor. She even chose to stay in school a bit longer to achieve her Masters.
If you are craving a babe with curves and a smiling face, Sarah Nicola Randall can be the one to wow you!