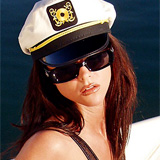 Brook Bradford is all about living adventure and exploring the excitement of flesh. She isn't your typical adult model.
This sexy tomboy with a true love of the outdoors isn't nearly as likely to be photographed lounging around looking glamorous as she is to be shot straddling a vibrating dirtbike topless or riding a speeding jetski completely nude.
As dirty as Brook likes to get, she also enjoys a good bit of pampering at the end of the day. A sexy day of filming her on public land taking a mudbath ends in her at the nearest spa getting a massage and pedicure. Just because she likes to get wild doesn't mean that she doesn't want to look her best while doing it!