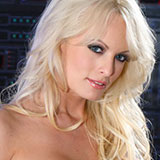 If you're looking for a big busty blonde than Stormy Daniels is your woman!
This babe has been in over 120 adult films and won what seems like just as many awards for them. That definitely says something about the sex appeal of this chick. She works hard to get you hard and take you all the way!
One of the great things about Stormy is that she's able to keep that erotic charm of hers working even outside of porn – including mens mags, mainstream movies, and music videos.
You get to lust after her even in media that's safe for work.