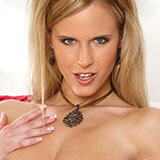 Zuzana Drabinova, a.k.a. Raylene Richards, is an adorably attractive DD delight from the Czech Republic.
She has a cuteness about her that makes her womanly shape that much more enticing to anyone fortunate enough to lay eyes upon her.
Whether frolicking in the sand, looking for a little naked roadside assistance, or getting very creative with a coffee cup, she'll invigorate your senses and have you yearning for more.